The Benefits of Trade Show Booth Rentals: Making a Lasting Impression
Trade shows are instrumental in connecting businesses with potential clients, partners, and industry professionals. They provide a unique opportunity for companies to showcase their products, services, and innovations. One crucial aspect of making a significant impact at these events is the trade show booth. While some companies choose to invest in building custom booths, an increasingly popular and practical option is trade show booth rentals.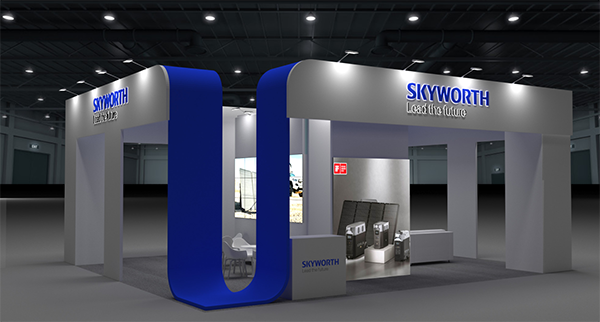 Let's explore The benefits of trade show booth rentals。
Flexibility
Innovation
Low maintenance
Cost-effective
Optimize your program

1、Trade show rentals offer flexibility
Renting a trade show booth provides businesses with the flexibility to adapt to various show formats and themes. Each trade show may have unique booth space dimensions and layout requirements. By renting a modular or customizable booth, companies can easily adjust the booth's size and configuration to fit the specific event. Additionally, rental companies offer a wide range of booth styles, designs, and accessories, allowing businesses to select the one that best aligns with their branding and messaging.

2、Cost-Effectiveness
One of the primary advantages of trade show booth rentals is their cost-effectiveness. Building a custom booth from scratch can be expensive, requiring significant investments in design, materials, and construction. On the other hand, renting a booth can be a much more budget-friendly option. Companies can allocate the saved funds to other aspects of their trade show participation, such as marketing materials, demonstrations, and giveaways, enhancing their overall trade show experience.

3、 Hassle-Free Logistics
Constructing and dismantling a custom trade show booth can be a time-consuming and labor-intensive process. Trade show booth rentals eliminate this hassle, as rental companies take care of the logistics. They handle transportation, installation, and dismantling of the booth, saving exhibitors valuable time and effort. This convenience enables businesses to focus on other crucial aspects of their trade show preparations and ensure they are ready to engage with attendees effectively.
4、High-Quality and Professional Appearance
Renting a trade show booth doesn't mean compromising on quality or appearance. Reputable rental companies offer well-maintained, high-quality booth structures that can rival custom-built ones. These booths often incorporate the latest design trends and technologies, giving businesses a professional and contemporary look. A visually appealing booth is essential for attracting visitors to the exhibit, making rental booths an excellent choice for creating a lasting impression.
5、Access to Support Services
Most trade show booth rental companies offer additional support services, such as graphic design, booth maintenance, and on-site assistance. These services can be invaluable, especially for businesses that may not have in-house design or technical teams. Rental companies' expertise and guidance can help exhibitors create engaging displays and enhance their overall trade show performance.

Don't know where to start?
We've developed an exhibit rental program for all types of needs. Browse models or use our Build & Price calculator to determine the exhibit cost based on footprint, signage, accessories, and more. Contact us,Optimize your next trade show program with rentals。