IS THE CUSTOM EXHIBITION STAND WORTH THE ENTERPRISE INVESTMENT?
Why do more and more companies start to customize booths when participating in exhibitions? Is it really necessary to customize booths? Yes, it is necessary.
BENEFITS OF CUSTOM STANDS
What is the purpose of exhibiting? To elevate your company in buyers eyes, engage with visitors and ultimately, to sell more of your products and services.
Custom exhibition stands that are original, well designed and functional are the best tool for the job!
The top-5 benefits of custom exhibits
The 'design freedom' allows your designer to perfectly reflect the personality of your brand.
You can craft a look and feel that has more impact in the exhibition hall than standard exhibits.
The architecture of a bespoke exhibition stand will improve engagement with visitors.
A personalised design is more likely to be remembered, aiding post-show follow-up.
Unique signage or branding features are possible with custom-builds, that are not with standard trade-show booths.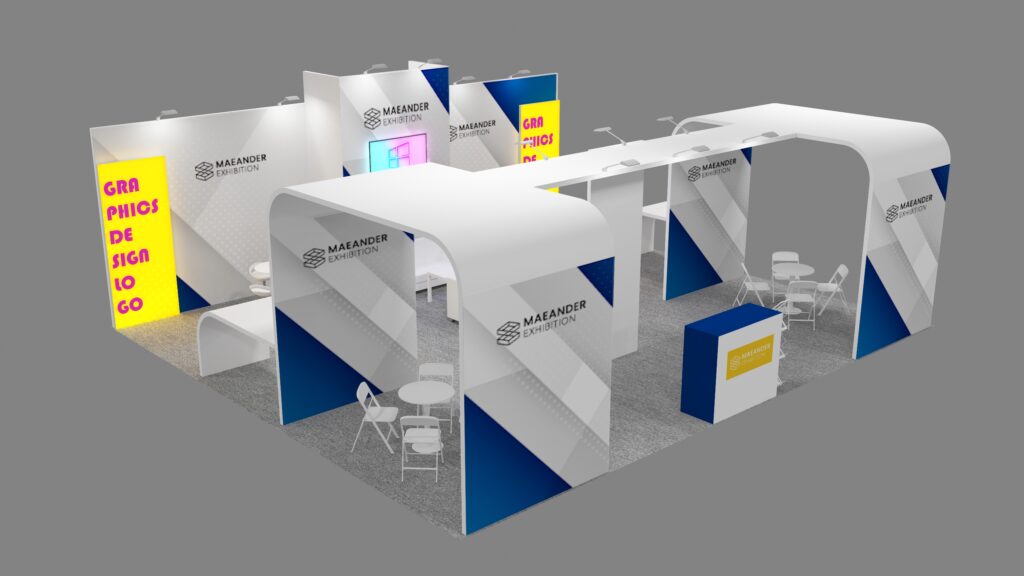 MAEANDER EXAMPLES OF CUSTOM DESIGN
Notice something really originative about Maeander exhibition stands? Take a look at our Photo-Gallery .Now, We offer Customized booth Lowest Price in Dubai 199 AED / sqm up . Consult us.
We guarantee the success of your event at the lowest price.
Investing in a high-quality booth stand is a smart decision for your business in the long run.
WHY ARE OUR CUSTOM STANDS BETTER?
Traditional custom-build stands are not reusable. They're also wasteful, polluting, unsafe to build, and bad for the environment.
Our stands are designed and built in a better way.
Using Maeander, your show exhibit will be personalised and unique. But because it's designed in reusable modules and graphics, you can reconfigure to fit different floor-space, at different shows, over an exhibiting campaign.
Our in-house design and manufacturing services include:
3D CAD design and graphic design process
Custom exhibition stands
Large Format Printing
100% quality pre-build
Stand construction and installations
Rental or purchase
CONCLUSION
In conclusion, booth stands are an essential tool if your business is looking to increase visibility and exposure at events and trade shows. Whether you are a small start-up or a large corporation, investing in a high-quality exhibition stand is a smart decision that will pay off in the long run.