Simple booth decoration Ideas-Less is More
We always have this wrong perception that to design a perfect exhibition stand, we need to incorporate many things, all at one at the exhibition. However, designing also means making extra use of your space and to make it look bigger. So when you use a lot of stuff at a trade show booth design, your booth automatically looks small and messy.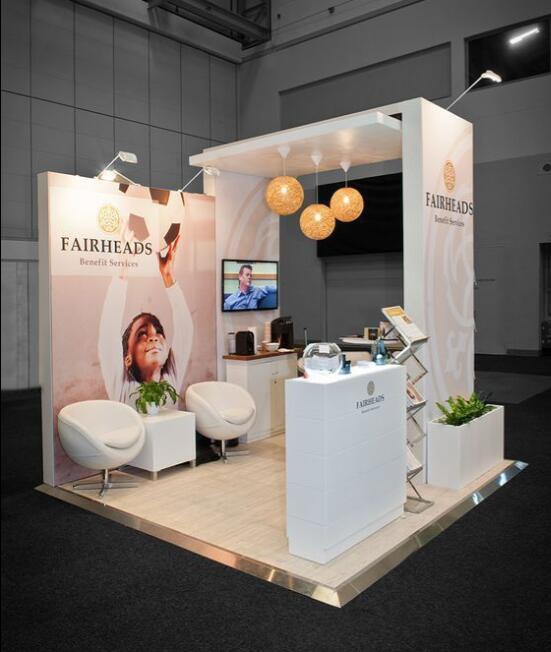 Here are some simple booth tips for a small booth that follow the "less is more" principle:
Declutter the graphics
Designing your signage is the first and foremost thing to do while designing your booth design. So when you design that signage leaves a lot of space. Just use some graphics and write things that define your brand but nothing more than that, or else your signage won't do much work for your brand.
Furnishing Choices
Your furnishing choices must be on the basis of your Stand design. When you have a small sized booth, make sure you are more selective and careful while designing your booth. The old "rule of thirds" often applies in these situations, whereby you limit the design elements to three areas, such as an information table, a product area, and your sales area.
Keep the Lighting simple
While designing you must be specific about the kind of lighting you want to employ at your trade show booth. Never even think of using both warm and cool lights at a single place. Remember, contrasting colours is the real deal here. Consider using bright colours to your booth to display products and also use strategic lighting to display highlights about your brand.
Create a welcoming vibe
Add a personal touch to your booth by incorporating some homey elements, such as a vase of flowers or a small rug. This will make your booth feel inviting and welcoming to visitors.
Display your products prominently
Make sure your products are the main focus of your booth. Use simple shelving or display stands to showcase your items.
Remember, the key to decorating a small booth is to keep things simple and uncluttered. you can create a welcoming and attractive booth without overwhelming the space.
Let us know your thoughts. Contact us。