B2B Exhibition Stand Design Dubai :How to market your company?
To market your B2B business effectively there is nothing better than taking part in a trade show in Dubai. It is important to promote your event, but for that, you need the best exhibition stand design. At the same time, before and after the event your appearance should be supported by marketing efforts. Otherwise, you will miss vital opportunities to generate new leads.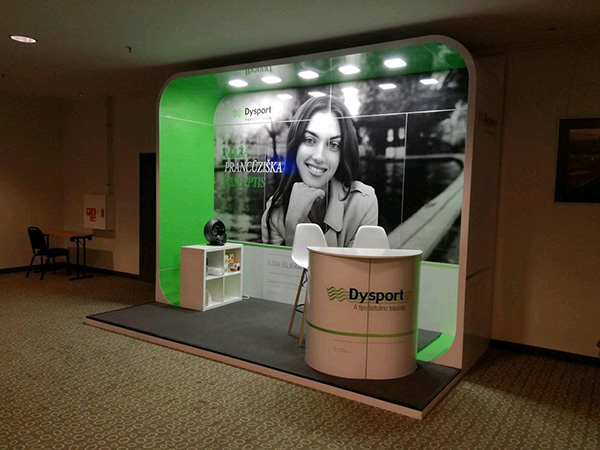 B2B Exhibition Stand Design Tips:
Prioritize functionality: B2B events are typically focused on networking and lead generation, so exhibition stands should prioritize functionality. Make sure that your stand is designed to facilitate conversations and interactions with potential business partners. This may include providing comfortable seating, private meeting areas, and interactive displays.
Highlight expertise: B2B buyers are often looking for partners who are experts in their field. Make sure that your booth construction and design emphasizes your industry knowledge and expertise. This may include displaying awards or certifications, showcasing case studies or white papers, and providing information about your team's qualifications.
Keep branding subtle: While branding is important, it should be kept subtle in a B2B exhibition stand design. Instead of using loud or flashy graphics, focus on creating a clean and professional design that showcases your products and services in a clear and concise way. This will help you establish credibility and build trust with potential business partners.
Provide detailed product information: B2B buyers are often looking for detailed product information to make informed purchasing decisions. Make sure that your exhibition stand provides comprehensive information about your products and services, including technical specifications, features and benefits, and pricing information.
B2B Exhibition Marketing Tips
Before the exhibition
It goes without saying that before the big day you need to ensure you have an on-brand and engaging stand design.
Your social media activity should also be ramped up. Social media channels are something most B2B exhibition companies give a lot of importance. To help boost reach and engagement ensure you mention them in posts. If there's an event hashtag it's also worth investigating. This will help you to join in with conversations and expand your reach. You will also get to know about other companies who are taking part in the expo and if you think they are a potential customer you can contact them before the exhibition.
Do extensive research before the exhibition and make a database. Take a look at the list of exhibitors and go through their website and social media channels. You can make use of this opportunity to revive old leads as well. You can inform them that you are taking part in the exhibition and ask them to attend it.
At the exhibition
Go through your list when the big day rolls around. If you are keen to speak to any exhibitor make it a priority to take a look at their stand and introduce your company. To build connections you must make yourself useful.
At any workshops or keynote speeches be sure to have a presence. Get to know exhibition goers in a less focused way. Listen to what speakers are saying. This will give you content for post-exhibition.
Post exhibition
Your marketing efforts don't end with the exhibition. If you are to maximize your appearance it is important to follow up after a B2B exhibition. After the exhibition starts sending a follow-up e-shot to people you're adding to your database. A great way to drum up the business is to offer an exclusive discount to those who gave you their contact details at an exhibition in an e-shot.
A phone call or a personalized email is appropriate for any significant leads.
Tag any interesting people or companies you've met and post on your social media channels saying what a great day you had. For any future requirements, you must keep them brand aware.
To make your brand stand out you need to have a unique exhibition stand design combined with traditional marketing efforts and continued social media presence. When you take part in a trade show or exhibition in the future this will give you something to talk about.
Request For a Free Consultancy now and make your next Exhibition participation a truly rewarding experience. info@maeander.com or Call +971 4 558 8048