WHAT IS THE STANDARD BOOTH?CHOOSING THE RIGHT TRADE SHOW BOOTH SIZE
What Is The Standard Booth?
A standard booth is a temporary structure that is commonly used in events and exhibitions to showcase products or services.It typically has a modular design and can be easily assembled and disassembled.
Standard Booth Sizes
The dimensions of a standard booth can vary depending on the event and the organizer's specifications, but a typical size for a standard booth is 3 meters by 3 meters (9 square meters). However, some events may offer larger booth sizes such as 3 meters by 4 meters or 4 meters by 4 meters.
When it comes to selecting the right exhibition stand design in UAE, bigger is not always better. From an exhibitor's point of view, choosing the right size of an exhibition stand design for your business is a careful balance of exhibitor costs to visual impact. All these factors determine your ROI.
Which exhibition stand design layout should you select?
Get More:《6 Different Types of Trade Show Booth Pros and Cons》
Standard booths are often used by exhibitors who are looking for a cost-effective way to showcase their products or services. They are also a popular choice for small and medium-sized businesses that have limited resources but still want to participate in events and exhibitions. Standard booths come in a variety of configurations, and exhibitors can choose from different layouts, materials, and finishes to create a custom look that reflects their brand and message.
Booth builders in the UAE offer a range of services to help exhibitors create the perfect booth for their event. These services typically include design, fabrication, installation, and dismantling.
How Big Should Your Trade Show Exhibit Be?
There is a general rule that determines how big should be your custom exhibition stand design be. It depends on the size of your team. More team members require more floor space. A small booth with a big team can feel overcrowded. Visitors instinctively avoid crowded areas. So, if your team is big then you should go for an exhibition stand design that offers more floor space.
Searching For A Booth Builder In UAE?
From diverse exhibition stand designs to several exhibition-related services, Maeander offers a variety of services that are necessary during a trade show.
Our standard booth (including frame, panels, stickers, lamps, all furniture).Contact Us for your get a quote.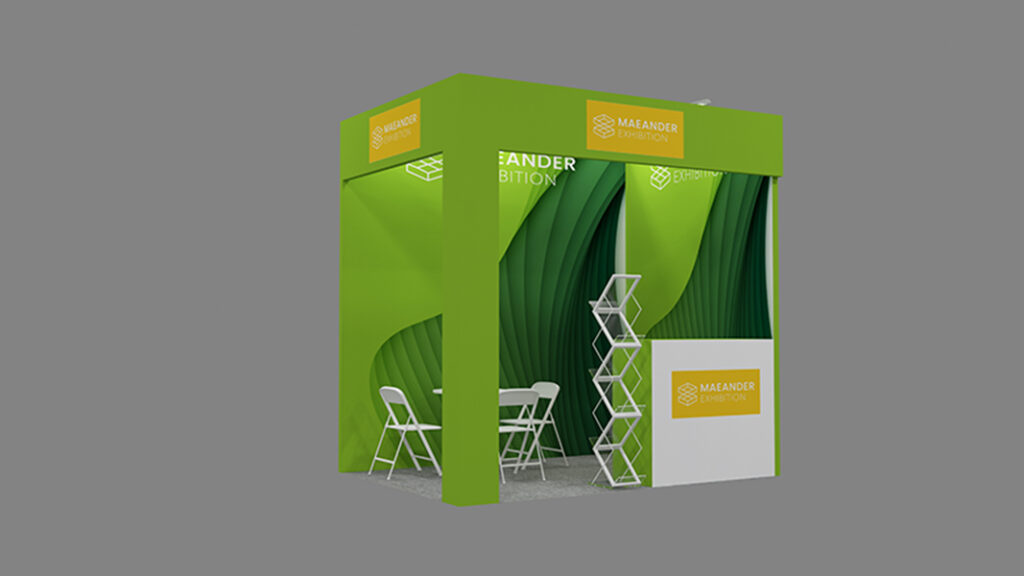 In conclusion, a standard booth is a cost-effective way for exhibitors to showcase their products or services at events and exhibitions.